No estamos tan viejos, aún posamos bien.

Hace
poco supe que la mítica banda (y una de mis favoritas) vuelven a juntarse.
o mas bien a una especie de "reinicio de actividades" noticia que me motivo finalmente a crear un blog dedicado a la musica y temas relacionados.

Esta banda de grunge alternativo estadounidense, fundada en 1987 en Seattle. Con un nombre que ya denota bastante pesimismo de por sí y un sonido pesado y agobiante, AIC consiguieron emerger de la escena de Seattle hasta convertirse en una importante banda del llamado "rock alternativo", aunque siempre por debajo de contemporáneos como Nirvana, Pearl Jam o Soundgarden. De hecho, la banda que tiraba más al heavy que la mayoría de grupos de la escena, no se relacionó con la escudería Sub Pop. La clave de su éxito, la combinación de esa dejadez que se le supone al "grunge" con la fuerza del metal. Apoyándose en una visión basada en drogas y muerte del cantante Layne Staley, y los sutiles y trabajados acordes metálicos del guitarrista Jerry Cantrell, Alice In Chains rápidamente emergieron gracias a un agresivo mercadeo y un sonido destructivo y destruido compenetrando la fuerza de Metallica con el rock moderno.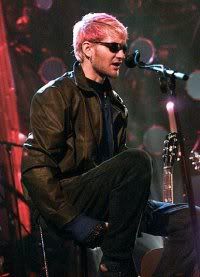 La muerte en 2002 del vocalista de la banda Layne Staley, supone la ruptura de la banda. Por si esto fuera poco, el segundo disco en solitario de Jerry Cantrell, de título Degradation Trip y dedicado a la memoria de Layne, conto con una gran acogida entre los fans. Tras pensar que la ruptura de Alice In Chains era definitiva no era así tras que nunca ellos dijeron oficialmente que la banda se separaba sino que se encontraba en hibernación debido a la muerte del cantante y fundador Layne Staley. Luego de una pausa de casi 10 años en febrero del 2005 se juntan los
miembros sobrevivientes de la banda para junto con cantantes de la talla como Maynard Keenan (TOOL), Patrick Lachman (DAMAGEPLAN), Wes Scantlin(PUDDLE OF MUDD) y Ann Wilson (HEART)para realizar lo que se llamó"Tsunami Benefit" en Seattle dejando una posibilidad de que la banda siga adelante. A fines del 2005 se rumoreaba sobre una nueva reunión la cual se concretó el 10 de Marzo del 2006 para el programa del VH1 "Decades Rock Live!" dedicado en este caso en un tributo a la banda "HEART" grandes compañeros desde primer momento, el tema era que ellos en varias entrevistas nunca confirmaron sobre quien reemplazaría a Layne siempre y siguen manteniendo esto, en ese tributo participó ,sorpresivamente, Phil Anselmo cantante de Pantera y Down y William Duvall, cantante y guitarrista de Comes With The Fall quien fuese la banda soporte de las giras de Jerry Cantrell como solista. Luego de esta participación y un poco mas afianzados ya confirmaron gira por Europa sin descartar posterior gira por Estados Unidos y su posterior disco en estudio dejando en un segundo plano el d
isco solista de Jerry Cantrell que estaba grabado prácticamente. Por el momento se el encargargado de suplir al añorado Layne Staley será William Duvall, cantante y guitarrista de Comes With The Fall.
Y para complementar nada mas que el concierto que dio
Alice In Chains el 10 de marzo del 2006, para el canal VH1 llamado "Decades Rock Live!" , con Jerry Cantrell, Mike Inez, Sean Kinney...y por supuesto el nuevo vocalista William Duvall, y tambien con la participación de Duff Mckagan. Y un par de temas junto a Heart.
Tracklist:


01 - Angry Chair

02 - Man in the Box
03 - Them Bones
04 - Would

05 - Man in the Box 2
06 - Would 2

07 - Rooster [With Heart]

08 - Baracuda [Heart with AIC]
http://www.megaupload.com/?d=V5JP3AL7